<![if !vml]>

<![endif]>

Both being pilots, we have the privilege of flying our CT210 around the USA whenever there. However, when visiting other countries we have also successfully rented a local aircraft to enjoy part of our trip from the air. Obtaining a local pilot license rarely posed a hurdle.
The main topic when visiting Japan is the shrines, gardens and many cultural points of interest. We decided to add a little more spice to our visit and check out where general aviation might be. Did general aviation even exist? Could we rent a plane? Japan is an island with a dense population which considerably limits the freedom of movement in every way. We checked the English section of AOPA Japan and found a wealth of information with answers to most of our questions.
We discovered that it would be necessary to learn the Japanese language in order to get a Japanese pilot license. Speaking hardly more than a few words of Japanese, this was obviously out. The solution which crystallized was to find a GA airport and then a pilot who would be willing to take us on a local flight. That's fine with me, at least it was something! Then came the welcome news from my brother in Toulouse at the IAOPA meeting. We would be very welcome and would gladly be introduced to small aircraft flying in Japan. "Just give a call when you are there." Great!
After having settled down at our headquarters in Osaka we called the AOPA Japan office in Tokyo. It did not take more than five minutes and Mr. Yamagata, Executive Director of APOA Japan, was on the phone speaking perfect English. From there on all went well with professional precision. We communicated by email or cell phone and he kept us up to date on the flying arrangement he was planning for us.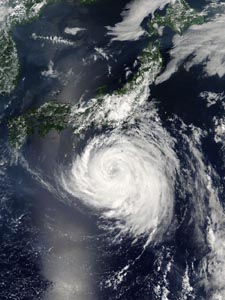 The weather had so far been very good, with only a few monsoonal rainfalls. But, as our scheduled day to meet a pilot came closer, a Typhoon (about 3-4 rated hurricane) beat us to it, passing across the Island. For half a day, rain swept horizontally past our hotel window and the clouds raced by as we watched the few daring pedestrians clinging on to their mangled umbrellas. The next day blue sky appeared again and was all over most of the Islands. We took the subway to the GA airport south east of Osaka in YAO. Ari Yamagata had flown in commercially from Tokyo to meet us and introduce us to the host of the day, our pilot Fumio Oyama-san. We thought this was exceptional!
During the next three hours we accompanied Oyama-san on a local flight around the Inland Sea, west of Osaka. Filing a flight
plan for all flights is mandatory. Normal international forms are used and communication is in English. Weather and other briefings occasionally tend to get a little complicated when Japanese caricatures are used.
Our host's aircraft was a brand new Piper Malibu PA-46 (JA-121G) equipped with the latest cockpit lay out as well as air conditioning. In contrast, our pilot was over 70 years of age and loved to use the bicycle for transportation. Joan and I each had the pleasure of alternately sitting in the right seat having the controls when we felt that the auto pilot needed some relief or we wanted to check out something of particular interest below us – and there was plenty!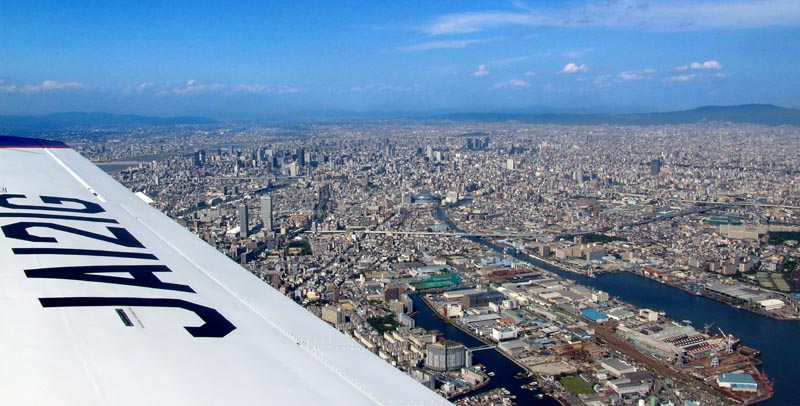 Taking off and flying through the busy Osaka air space was not much different than in USA class B and C airspace. Radio communication was in English, however occasionally there was communication in Japanese. Departing to the west we flew low over the big city which covered every foot of level ground between the sea and the hills in the background.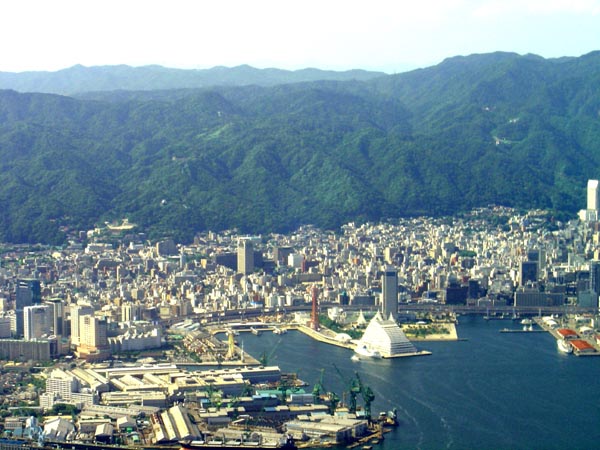 The flight then took us over Kobe which had been leveled by an earthquake in 1995 and now is flourishing again with 1.6 million people.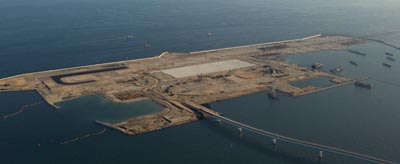 A new airport also became necessary. The sea was the only piece of real estate available. Presently, a steady stream of barges haul in filling material. The same had been done with the new international airport Kansai of Osaka.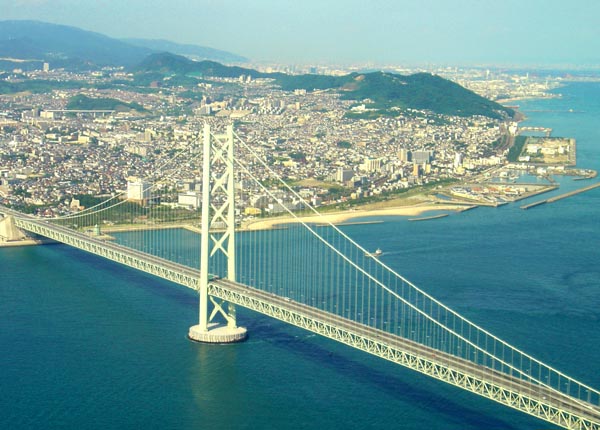 Following the coast we were amazed by the number of bridges connecting the numerous islands. One of those we were told is longer then the Golden Gate Bridge.
(In the background is Kobe and far away Osaka.)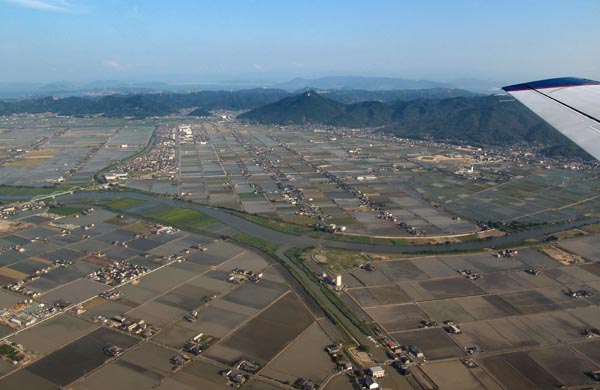 The further away from the big city we got, agriculture took over giving the country a typical chess board appearance. While the low lying flat land is used for irrigated agriculture, the hills are more and more put to use for special purposes like golf courses or grazing grounds for the famous Kobe beef. Yes, it is every bit as good as we had heard!
Bridge connecting Okayama with Shikoku Island.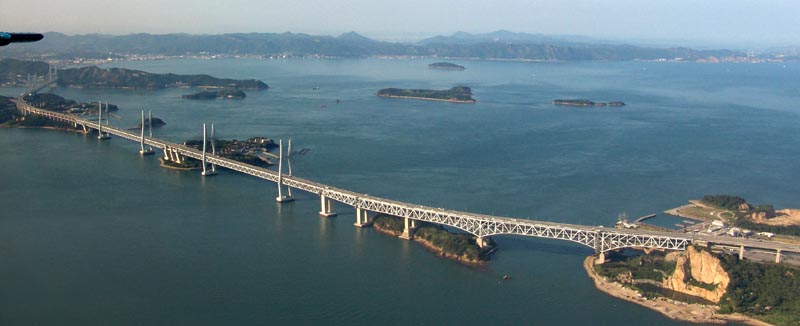 Over two hours later we returned to YAO airport with our heads still milling from vivid lifetime impressions. For flying buffs like ourselves, this experience far surpassed the shrine visiting marathons or shopping. Our contact Ari, put us in touch over the phone with a German pilot who had moved to Japan a year ago who confirmed that it is possible to get a Japanese license using English only (though a little Japanese helps). Good news for those of us who plan to spend more time in this interesting country! Flying however is not as inexpensive as in the USA. It is more comparable to flying in Europe where fuel is more in the $6.00/gal range.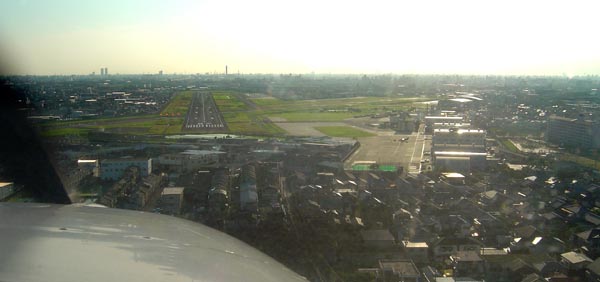 AOPA Japan is working hard to increase the status and availability of private flying in Japan and in addition opening up the possibilities to fly abroad. The neighboring countries (Korea, China, Russia) often lack the supporting infrastructure and most of all, good quality fuel, not to speak of all the necessary paperwork required. The long term goal is to have a reliable chain of services linking Japan north as far as Alaska. One disappointing note for sea plane pilots - there are no GA float planes despite of the vast amount of landing possibilities.
In closing this flying adventure, we felt rich in having had a great opportunity to learn and make new friends. An invitation to come to Colorado was extended to Ari and Oyama-san and they eagerly accepted! It was not only a treat, but a privilege we had received. Thank you to AOPA for being the "Missing Link" so pleasantly discovered.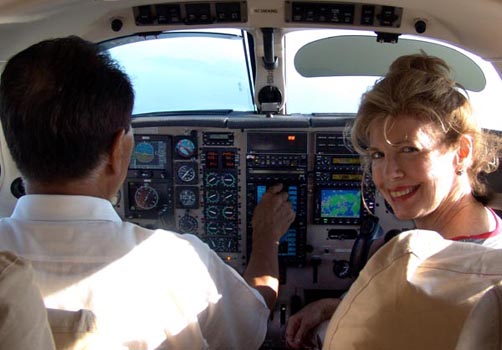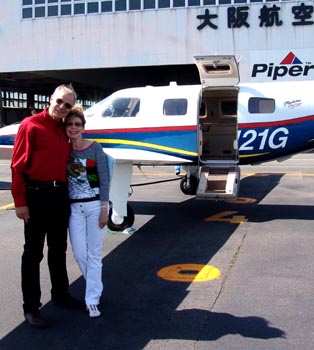 Response and suggestions are appreciated to wefly4fun2@aol.com
This page was serviced last on 28. March 2005