Our plans for Alaska started many years ago. Neither of us had been in Alaska but many of our friends gave us glimpses of what we could expect on the ground and in the air. Then there was our fascination in Float Plane flying directing us to consider a stop in Canada. Somehow we got in touch with Fly North who offered a guided tour through the Northwest. All was set for us to go in summer 2001 when disaster struck. We both had shoulder surgery. This gave us more time to do our planning. Gradually in our office and guest rooms, the piles of items to take along grew and grew. Messages from the Fly North people indicated that we should consider this and that.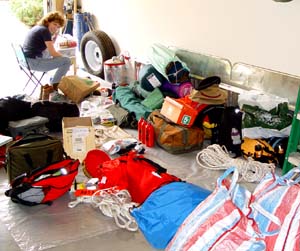 Besides the more material things there were the formalities. A mile long checklist was like an accordion in our folder. CANPASS, US-Customs sticker, radio-station license, radio operators license, etc, etc. Then all the procedures and recommendations on how exactly you should handle the customs officer over the phone and when meeting at the airport !! How could anybody before us have accomplished all this without making a mistake?
Well, the day came and we weighed each item, assigned it a position on the plane with coordinates (inches after datum) and did the weight and balance using our weight after breakfast. Our Centurion is a great workhorse. All was within limits. When loading was over the tail however was considerably lower than normal, that was before we took our seat behind the controls.
The day before our departure, a weak front had raced across the Rockies and now the way was clear. After a carefully measured ground roll to verify the POH data we turned into the strong head wind direction Boise, Idaho. Two hours later we felt that a pit stop was necessary and Pocatello was a town we had never been to. Why not check it out?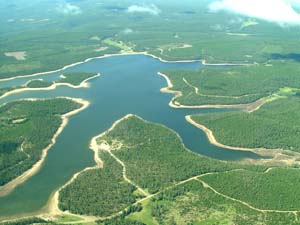 First a little gas into the wings for good measure to get us to our final destination of the day, Sunriver, Idaho followed by a sprint by Ueli across the ramp to catch the blown away flight plan! The gas attendant chasing both, did not manage to keep up with them even with his golf cart going at full boar. The wind sock was still stiff from the westerly wind and the air from the many forest fires had a spooky tint when our reliable engine pulled us into the sky. Settling back for the two and a half hour flight and switching on the autopilot we were surprised that instead of a steady heading the plane banked into a sharp right turn, away from the intended heading. This was a sure sign of a non functioning autopilot. A quick scan of the instruments turned up a vacuum needle pointing to zero. Sure enough one of the two attitude indicators looked at us cock-eyed. Since only very little in our cockpit is driven by vacuum (we have an electrical HSI instead of a heading gyro) the loss of the vacuum would not have been too big of a problem. However, we were at the start of the trip and heading for remote places, we did not want to fly around like this for the next weeks. Decision time!!
Where do you go on a Friday afternoon? Since we could not use our cell phone we decided to go straight for Boise, the next larger airport in the area. After barely an hour we were vectored to the airport - first right then left runway - then back to the right but the tower finally decided to put us on the left runway while having military and fire fighting heavies on the other. Joan decided that we wanted to taxi to Boise Air Service to test our luck. We called them up and after a short time of suspense they indicated that they may help us.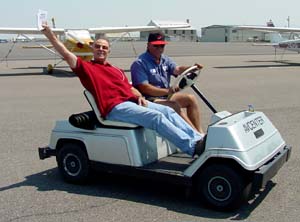 After shutting down and getting the cowling off, we were soon met by a mechanic who, after a short glance, smiled and said the beautiful words: "I have a pump and I can change it now". He pulled N85S to the back, where he had his shop with two C206 in partial assembly and quickly did his trick. An hour later we test-ran the engine and the vacuum needle steadied in the green.
This was a service that was unexpected. What does it mean to us? We are sure that the message for us is to slow down with our drive to get things done and accept the possibility that we have to go at a slower rhythm of pace. God sometimes needs to use a little more drastic measures than just to make you feel tired to get the message across. After this lesson, the journey to Sunriver became a relaxing trip. Cruising across the lava fields and deserted waste land we had the chance to listen to the controller as he assisted a pilot having lost his electrical to make it home. There is always HELP - you just have to be ready to accept it.
At Sunriver, a nice resort community in a lush green valley with a meandering stream bordered by forest, we were met by a limo from the hotel and even made it to our 8:00 PM dinner reservation. The next day would turn out to be another relaxing, sleep in late slowing down day. We both enjoyed it tremendously after months of planning and packing.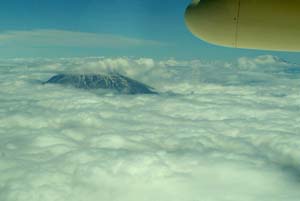 Sunday, relaxed and looking forward to getting on with the Canadian part of our trip, we headed north along the western side of the Cascades. The spectacular peaks dotted the sky along with some clouds and smoke from the many forest fires. As was predicted by the WX briefers, clouds were indeed along the route, however they soon became one enormous cloud layer stretching under us. It did not look like it was going to dissipate. Again, decision time; should we declare IFR on approach at our destination, turn around or continue on, hoping that the weather would let up? How long could we hold out or backtrack with our fuel? Again we checked with Flight Watch about the weather ahead. Why did we always hear "scattered clouds, broken clouds)." Were they nuts? All of a sudden one lovely hole with green pastures appeared! Of course we went for it. Like in an elevator, we descended into our keyhole from 10,500ft. After all we did want to take pictures! VFR pictures, not IFR pictures.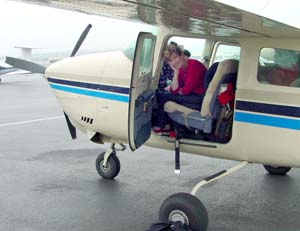 There was not much room under the white puffy sheet. Seattle Approach kept a watchful eye on our progress as we worked our way north. Guided by VOR and GPS we soon found familiar territory - or rather waterways. Memories from our seaplane flying a few years back were revived. The thing that was different now, was that we did not have floats to sit down if we ran out of space. Coming up to the west of downtown Seattle, a rain and fog front bank restricted our visibility even more and without talking to each other we felt that Boeing Field was our next destination. Could we see the space needle, the controller asked? NO, we could not see a thing - a bank of clouds blocked the view. But we knew our way and soon we followed the waterfront south. Finally, with the skyline of downtown Seattle to the left we saw the runway lights glowing out of the mist. Clear to land on 13L sounded like the Amen at the end of a prayer. Shutting down at Galvin Flying Service we noticed a few other light aircraft seeking safe ground nearby. -- Next stop, a cozy room at a hotel in Renton.