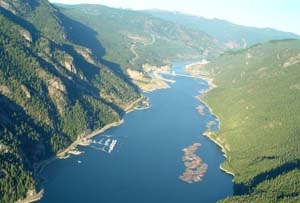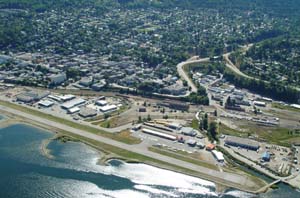 As we descended from the Monashee Mountains into the Lower Arrow Lake (Columbia River), the view of this blue river weaving its way through the steep Nelson Range was quite impressive. We flew through the narrow passage past Castlegar and into Nelson (CZNL). It was exciting to land there as one can see, albeit a bit tricky. There is also a floatplane base next to it. Certainly this was a place we were going to enjoy.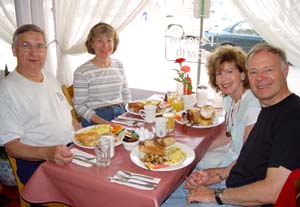 Nelson is an old iron and silver mining town settled in the 1880s. With the mines depleted, today it is a charming town with a population of about 9600 featuring many lovely historic buildings interspersed among updated shops and several designer coffeehouses. June and Chuck joined us for a delicious breakfast which included a great cappuccino. The town hosts many fine restaurants and one we particularly liked was All Seasons. The staff was as great as the cuisine.
What long trip would not include a pause at the local Laundromat? This particular one was also a meeting place to exchange the latest and also share a cup of coffee. We decided it was one of the happening places in town. Joan and June hung out there for a bit while Ueli and Chuck went to the airport to attend to this and that. We are all airport bums and never need a reason to go and simply just hang out.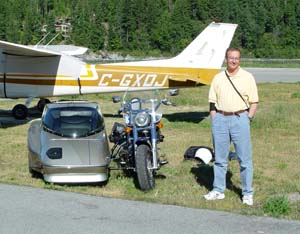 The next and last day, our leader, John Dale unexpectedly zoomed onto the ramp with his motorcycle. He came and bid us adieu to end our wonderful trip. We must also mention that his wife, Diana did a stupendous job in coordinating everything and responding to all the many questions and e-mails throughout the planning of the trip. She was super and we thank her for her efforts and hard work on FlyNorth both before and during the trip. She is also a pilot in her own right and can read a chart like no one can!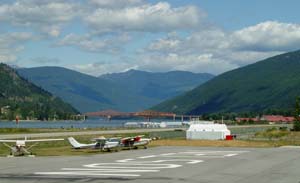 The planes were being refueled for our last leg back home. We were now only two planes at the end of a very long dream that had come true. FlyNorth had done a super job in showing all of us some of the many highlights that Canada and Alaska has to offer. Due to the individual time restraints each one had for this trip, only a selected routing could be accomplished at the mercy of the weather. There are many more ways to travel in Canada and Alaska for future trips.
It was some of the most beautiful country we have ever seen and the people there are just special!
This is where it must have happened.......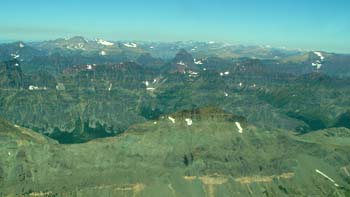 We were flying along the skies over Montana. Ueli was taking pictures as Joan turned the plane this way and that way trying to make it possible for Ueli to get that perfect picture. Of course the wind was offering us its usual challenge. We were used to it by now.
Sometimes things fly out the open window of a plane when one takes pictures. Well, this must have been the place where Joan's favorite purple fleece jacket departed us. She remembers something dark being sweep away as she raised the wing for Ueli to take another good shot. We were both much to busy to think about anything except flying the plane and taking pictures at that time.
This must have been the place.......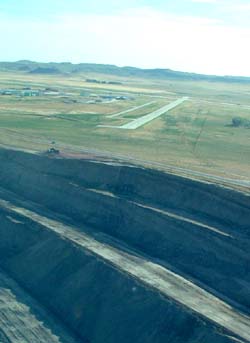 The jet stream really howled across the plains of Wyoming over the Big Horn Mountain Range. Our little plane was still being bumped and tossed in the wind (something we have grown accustomed to over the past month). As we were turning onto final approach into Gillette we had a bird's eye view of a mammoth coal mine directly below us. Later we were told by a local that this whole area was known for its huge supply of coal in the United States. The people are open and friendly in this otherwise dry and barren country. This was another new place for us, as we always try to discover new areas. It was a delightful place to spend our last "night on the road".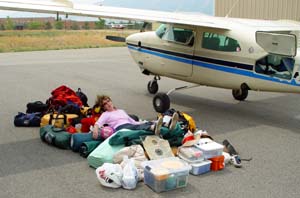 Well, well, well - we made it! A little tired, a little worn, still lots to do, but filled with memories that can never be duplicated. Our trip was everything we knew it would be and we are definitely going back.
We simply wanted to share this experience with all of you and hope you have enjoyed reading our story along the way!
Where are we going next? A little hint - some warm weather, some island hopping along with some scuba diving. We will let you try to guess where this might be!!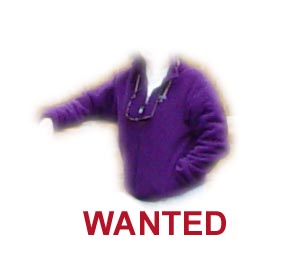 Purple Fleece Jacket
Lost in Space? Hanging in a tree? Covering a mountain top? Keeping a little bear warm?
Manufacturer: EMS
Color: Grape `
Size: Small
Cost: $39.95
How can one little thing mean so much? It just does. If found, please send to her. She promises a reward!!