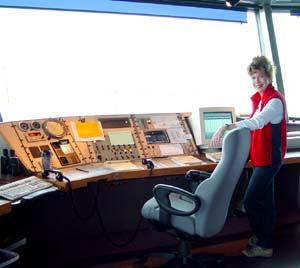 Joan checking the weather at the Dawson Creek tower
....still IFR.!!!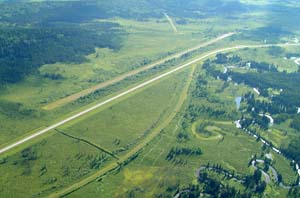 Alaska Highway with emergency landing strip alongside.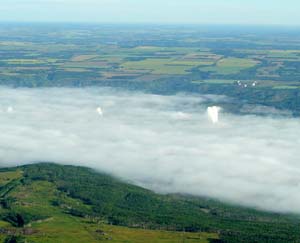 For the next leg from Dawson Creek, we headed northwest to our destination of Whitehorse. Flying along the Alaska Highway, we once again had the pleasure of flying over landscapes sometimes only seen in pictures.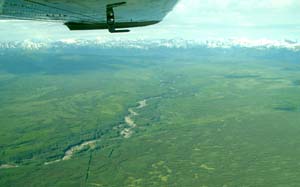 There were rivers totally covered by the morning fog, .....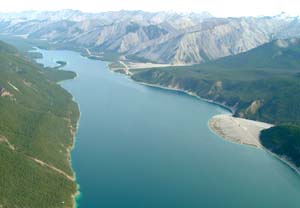 .... deep gorges with raging rapids, waterfalls, and to our delight, a beautiful seaplane base on Muncho Lake.
In our headset we heard a familiar voice: "Is that you Ueli"? After the surprise had worn off we found out that it was a new friend we met at Ten-ee-ah the week before! He had come up here with his float plane to do some fishing. Isn't the world small?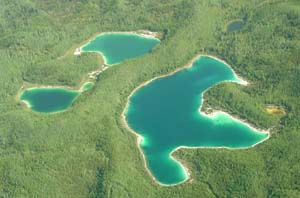 Later rolling plains covered by forest that looked like velvet from the distance were interspersed with winding rivers. The dark green forests blended into marshy lime green fields where lakes of various colors and shapes sometimes resembled a bear or another animal.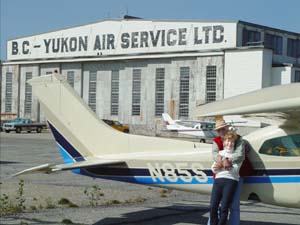 Next, the stop at Watson Lake was planned for a picnic lunch. We fueled up and soaked up the much missed sun of the last two weeks. The approach into Watson Lake Airport was exhilarating as we flew over the dark blue lake to land. Upon departure we saw a sunken Lincoln bomber from the second World War in the shallow waters of the Lake.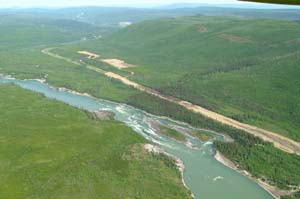 Next we flew into vast territories filled with snaky rivers and lakes of various shapes and sizes. Every so often were landing strips next to the great Alaska Highway we kept following - a comforting sight for pilots. Fortunately the highway was not lined with poles and the traffic was light which would have given us a chance to put down if needed.

All the way, we flew in a caravan of nine planes reporting to one another every five to ten miles. It has been interesting to travel this way, as we have not experienced this before. The group of people is diverse and has been fun to travel with. It has been a positive experience and certainly there is safety in numbers in such desolate and wild country.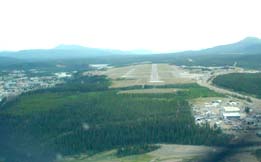 The airport of Whitehorse sets on a plateau which overlooks the city. We were greeted by the friendly folks from the FBO. After fueling up, we once again loaded the van to the next hotel. Settled in, we set out to explore the city. It is the capital of the Yukon Territory and offers a few more amenities, although one day there was enough to satisfy our curiosity. We have gotten to know almost every street and characteristic of Whitehorse because one more time, we have had to delay another day because of bad weather. After calling flight service with the hope of a better weather report coming true for the following day, we once again packed our bags wishing to move on to our destination of Alaska!